In Memory
David Kupniewski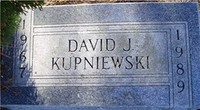 David James Kupniewski
September 6, 1967 - March 4, 1989.
Obituaries published in the Toledo Blade and Monroe Evening News on March 7, 1989.
David Kupniewski, 21, of King, N.C., and formerly of Case Drive, Lambertville, MI., died Saturday in his home. A 1985 graduate of Bedford High School, he was a painter the last three years for the Alexander & Stevens Co., King. Surviving are his father and stepmother, Mr. and Mrs. James Kupniewski; stepfather and mother, Mr. and Mrs. Darrel Hicks; brothers, Ronald and Michael Kupniewski; sister, Kathy Kupniewski; half sisters, Colleen and Corrin Kupniewski, and grandparents, Mr. and Mrs. Hank Kupniewski, Mr. and Mrs. Orville Wiley, and Mr. and Mrs. William Wiseman. Services will be at 10 am tomorrow in Our Lady of Mt. Carmel Church, Temperance, MI. The body will be in the Bedford Chapel, Temperance, after 4 pm today, with Scripture services at 7:30 tonight.
Image from: Find A Grave. Memorial # 13924490